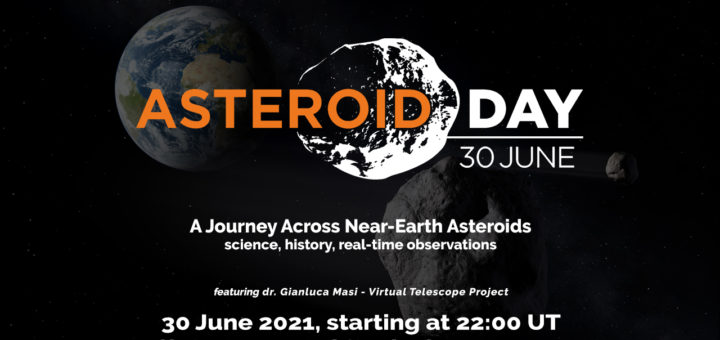 Asteroid Day 2021 at Virtual Telescope Project
Asteroid Day 2021 is coming, next 30 June, to celebrate its 7th Anniversary and Edition! Stay tuned and discover near-Earth asteroids with us, learning what they are, their impact risk and what we can do to mitigate it.
Next 30 June 2021, anniversary of the 1908 Tunguska event, will be internationally celebrated as the "Asteroid Day": it is "a global awareness movement where people from around the world come together to learn about asteroids and what we can do to protect our planet, our families, communities, and future generations". This is the seventh edition, after the first one in 2015 and the very successful 2016, 2017, 2018, 2019 and 2020 editions. More and more exciting events are coming. In December 2016 the United Nations General Assembly adopted resolution A/RES/71/90, declaring 30 June International Asteroid Day.
To celebrate the 2021 edition of Asteroid Day, marking its 7th Anniversary, the Virtual Telescope Project, the leading facility in the world sharing live, online the most spectacular near-Earth asteroids and their close encounters with our home planet, will officially offer you "A Journey Across the Near-Earth Asteroids", through our Solar System. We will explore the realm of asteroids, especially those coming close to our home planet, understanding their science and their importance. Above all, we will see some of these space rocks in real-time, while they surf the neighbour of our Earth.
External resources
Support The Virtual Telescope Project!
Support us! Please, donate and receive unique, LIMITED EDITION set of images of the stunning comet C/2020 F3 Neowise above Rome, of potentially hazardous asteroids, space stations and much more, specifically made for supporters like you!
(you can adjust the amount later)