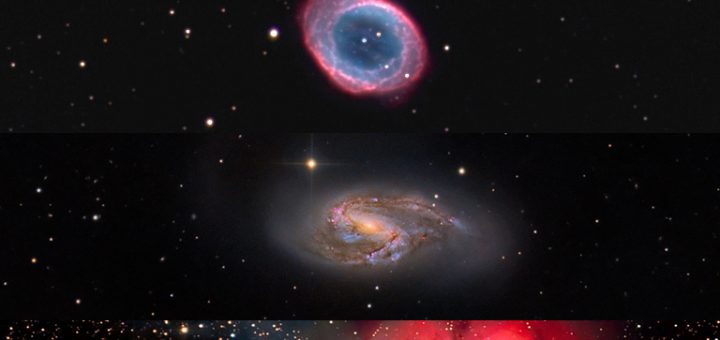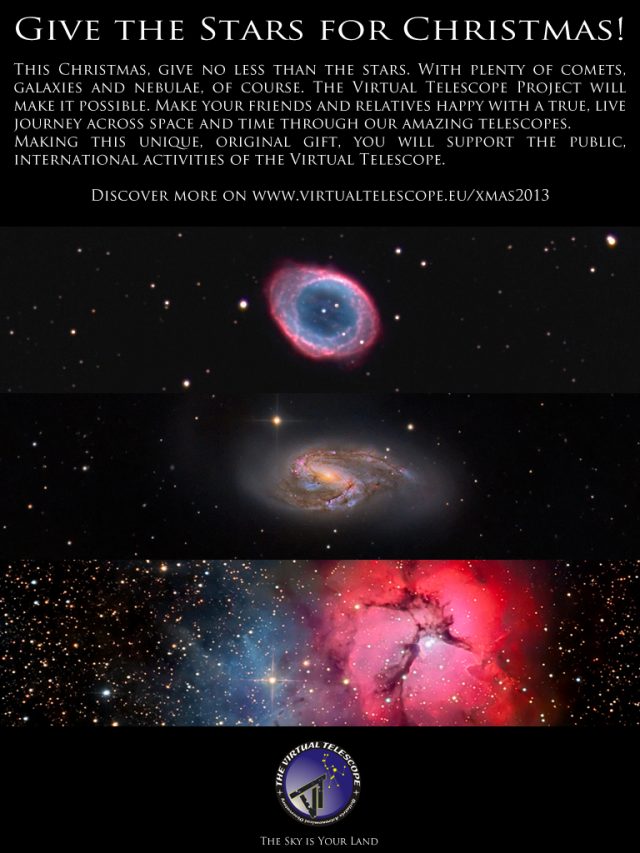 This Christmas, give no less than the stars as a gift. With plenty of comets, galaxies, nebulae, of course.
Thanks to the Virtual Telescope, you can offer to your friends and relatives a journey through the heavens, guided by our acclaimed staff of professional astronomers. Leave them speechless discovering the beauty of the skies, approaching wonderful nebuae, clusters of stars and leaving for distant galaxies. All this from the comfort of your home, remotely, via Internet.  A truly original gift.
The recipient will receive a ticket by email, announcing your gift. This offer ends on 7 Jan. 2014. Observations part of this offer can be enjoyed any time during all 2014, accordingly with our available time slots. During the session, the recipient will be assisted in real time by our staff, for the maximum enjoyment. The time bought will be used as a single session, accordingly with our general conditions of use.
With this gift, you will support our project keeping its many public, free activities and cutting-edge technologies.
You can give one or two hours of telescope time by clicking below and later adjusting the amount in the cart
If you need any further info, please contact us!
Support The Virtual Telescope Project!
Support us! Please, donate and receive unique, LIMITED EDITION set of images of the stunning comet C/2020 F3 Neowise above Rome, of potentially hazardous asteroids, space stations and much more, specifically made for supporters like you!
(you can adjust the amount later)