Supernova SN 2017eaw and NGC 6946, follow-up – 3 Sept. 2018
We observed supernova SN 2017eaw in the spiral galaxy NGC 6946, 17 months after its discovery. Of course it faded really a lot, but it could be detected. Here it is our image.
The image above comes from the average of five, 180-seconds exposures, remotely taken with "Elena" (PlaneWave 17″+Paramount ME+SBIG STL-6303E) robotic unit available at Virtual Telescope. The image scale is 1.2″/pixel. The object is marked there with two white lines.
We tried to measure the brightness of SN 2017eaw, finding it at mag. 18.9 (unfiltered, R-mags for the reference stars from GAIA DR1). The transient is visible close to a faint star, making measurements not easy to do, while the supernova continues to fade. Check the AAVSO website for a complete lightcurve. We will continue monitoring it.
Support The Virtual Telescope Project!
If everyone reading this right now would donate something, our fundraiser would be done in a few days. Please, donate and receive stunning, LIMITED EDITION panel showing the evolution of comet 46P/Wirtanen over the last weeks and more amazing images, specifically made for supporters like you!
donate now (you can adjust the amount later)
You can also order our 2019 Calendar
, featuring our unique images of the stars above the legendary monuments of Rome!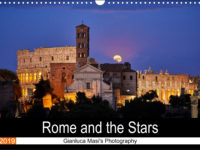 Comments
comments