Next 30 June 2016, anniversary of the 1908 Tunguska event, will be internationally celebrated as the "Asteroid Day": it is "a global awareness movement where people from around the world come together to learn about asteroids and what we can do to protect our planet, our families, communities, and future generations". This is the second edition, after the first one in 2015. More and more exciting events are coming.
The Virtual Telescope Project, the leading facility in the world sharing live, online the most spectacular near-Earth asteroids and their close encounters with our home planet, will officially offer you something memorable, for free. Activities both in English and Italian will be offered. Very special guests will unveil science, history and more about near-Earth Asteroids. Check this page often, as we update it continuously! We will have very special guests, as Thomas D, Jones (past Nasa astronaut and planetary scientist), Debbie Lewis (Director – Resilience Planning at Axiom and member of the Asteroid Day Expert Panel), Grigorij Richters (filmmaker and founder of Asteroid Day), Michael Schwartz (CEO and Director of the Tenagra Observatories, Ltd and NEO expert) and more!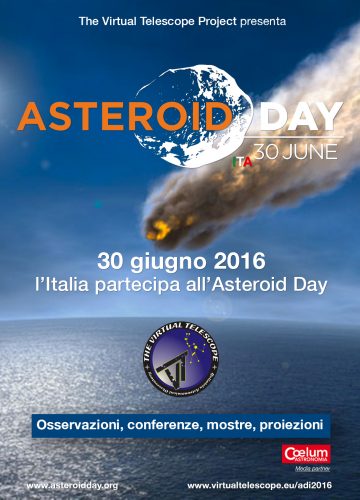 Support The Virtual Telescope Project!
Support us! Please, donate and receive unique, LIMITED EDITION set of images of the stunning comet C/2020 F3 Neowise above Rome, of potentially hazardous asteroids, space stations and much more, specifically made for supporters like you!
(you can adjust the amount later)