Asteroid Day: un evento ufficiale per l'Italia – 30 giugno 2016
Looking for the English version of Asteroid Day 2016 activities?

Click here!
L'iniziativa ufficiale per l'Italia per celebrare insieme l'Asteroid Day!
Un'iniziativa per curiosi del cielo, singoli appassionati e associazioni culturali! Partecipate numerosi.
NB: clicca qui per il Comunicato Stampa (24 giugno 2016)
Il prossimo 30 giugno si terrà la seconda edizione dell'Asteroid Day, evento internazionale lanciato lo scorso anno con l'intento di avviare una campagna informativa globale, consentendo alle persone di tutto il pianeta di scoprire il mondo degli asteroidi e ciò che noi possiamo fare per proteggerci da possibili impatti futuri. Un tema questo da sempre di grande richiamo presso il pubblico, spesso confuso da trattazioni poco ortodosse dell'argomento. Successivamente al lancio del progetto, Istituzioni, personalità e scienziati si sono uniti in questa missione, dando vita a questo evento ricorrente, che si celebra ogni 30 giugno, anniversario dell'impatto di Tunguska (30 giugno 1908), il più importante della storia recente. Tra i fondatori dell'Asteroid Day figura Brian May, celeberrimo chitarrista dei Queen e, cosa non nota a tutti, laureato in astrofisica. Lo scorso anno è stato poi presentato il film "51 Degrees North" diretto da Grigorij Richters  (anch'egli tra i fondatori dell'Asteroid Day).
Per l'edizione del 2016, sulla scorta del successo registrato nel 2015 e su accordo ufficiale con il board internazionale, il Virtual Telescope Project si fa promotore dell'Asteroid Day in Italia! Questo ci rende oltremodo orgogliosi, visto l'ineguagliato impegno con cui il Virtual Telescope si contraddistingue da sempre sulle scene internazionali proprio sugli asteroidi potenzialmente pericolosi, proponendone l'osservazione in diretta a tutto il mondo, spesso offrendo delle vere e proprie primizie.
In occasione dell'Asteroid Day 2016 il Virtual Telescope offrirà una sessione osservativa in streaming con commento dal vivo a cura dell'astrofisico Gianluca Masi, resposanbile scientifico del Virtual Telescope, comodamente fruibile via web e avente per oggetto proprio gli asteroidi near-Earth. Alla diretta parteciperanno l'astronauta Nasa Thomas D. Jones, quattro volte nello spazio con lo Shuttle e specialista in scienze planetarie, e Grigorij Richters, co-fondatore dell'Asteroid Day. L'evento si svolge in collaborazione con il canale "Scienza & Tecnica" di Ansa. In questo modo chiunque, singoli e associazioni culturali, potranno organizzare un evento sul tema, condividendo presso la propria sede la diretta, laddove non fosse possibile osservare in proprio questi corpi celesti. Sarà inoltre possibile collaborare all'evento online, inviando al nostro staff proprie immagini di asteroidi near-Earth.
Associazioni, osservatori e appassionati sono caldamente invitati ad organizzare attività culturali e osservative proprie, registrandole sul sito internazionale. Per una migliore diffusione, vi invitiamo a segnalarle anche al nostro staff. Il tema degli asteroidi e il relativo rischio d'impatto associato è tra quelli di maggiori richiamo per il pubblico, sicché l'Asteroid Day è una occasione preziosa per fornire informazioni corrette, contando sull'appeal dell'argomento.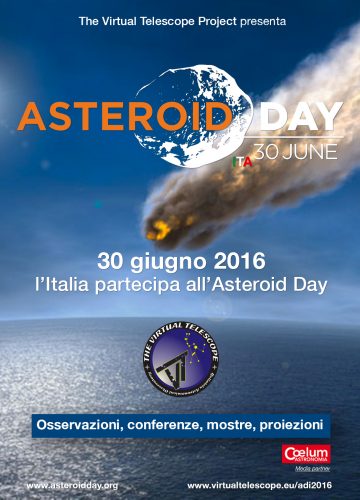 Coelum Astronomia è media partner dell'iniziativa.
Stiamo definendo i dettagli dell'iniziativa, aggiorneremo costantemente questa pagina.
Per ogni necessità e informazione non esitate a contattarci.
Buon Asteroid Day a tutti!
Gianluca Masi
Virtual Telescope Project
Eventi principali per l'Asteroid Day Italia
Support The Virtual Telescope Project!
Support us! Please, donate and receive unique, LIMITED EDITION set of images of the stunning comet C/2020 F3 Neowise above Rome, of potentially hazardous asteroids, space stations and much more, specifically made for supporters like you!
(you can adjust the amount later)