Comet C/2012 S1 Ison: a new image (10 Nov. 2013)
After several days of cloudy weather, the sky was clear again at Virtual Telescope to plan some comet observing, late in the night. Of course, comet c/2012 S1 Ison was a primary target.
The image above comes  from the average of 8 different exposures, each integrated for 180 seconds, with no filters to use all the light collected by the PlaneWave 17″ robotic unit. Images were then aligned to compensate for the apparent motion of the object, while the robotic telescope's mount was tracking at the apparent motion rate of the object.
Comet Ison is showing  here a 20′ long tail, with clear evidence of a ion structure, also showing as a narrow "baffle" leaving the head of the comet. Of course, this is just a portion of its full extent.
If you want a map showing where comet Ison is, just click here
Support The Virtual Telescope Project!
If everyone reading this right now would donate something, our fundraiser would be done in a few days. Please, donate and receive stunning, LIMITED EDITION panel showing the evolution of comet 46P/Wirtanen over the last weeks and more amazing images, specifically made for supporters like you!
donate now (you can adjust the amount later)
You can also order our 2019 Calendar
, featuring our unique images of the stars above the legendary monuments of Rome!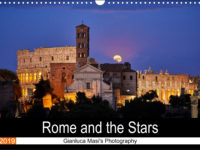 Comments
comments