Registrazione evento online del 15 febbraio 2013,  in occasione del passaggio dell'asteroide 2012 DA14.
Una collaborazione tra "Ansa Scienza&Tecnica" e "Virtual Telescope Project".
Last night, asteroid 2012 DA14 did its exceptional close passage, reaching on 15 Feb. at 19:25 UT a minimum distance of about 27500 km from the surface of our planet.
The Virtual Telescope planned a very special event since last summer and finally the day arrived. More than 150.000 viewers from 166 Countries jumped into our live page to spy this tiny rock. Unfortunately, the clouds came, too, but at least we had some clear skies soon after the minimum distance was touched. The image above is an exceptional document, showing 2012 DA14 while it was at about 36500 km from us. An exposure time of  3 seconds was used for each frame going to make this averaged image.
For the occasion, the PlaneWave 17″ robotic unit was used, trusting its exceptional Paramount ME robotic mount. The mount was controlled by TheSkyX Pro suite and the software was perfectly tuned to track this VERY DIFFICULT target. The results shown here speak by themselves: the asteroid was perfectly tracked, despite it was moving at 0.65 degrees per minute! All this after the scope was just slewed, without any manual adjustment! Amazing.
The movie below gives even better the feeling of the event. 17 images, each with 3 sec of exposures, were assembled to make this animation.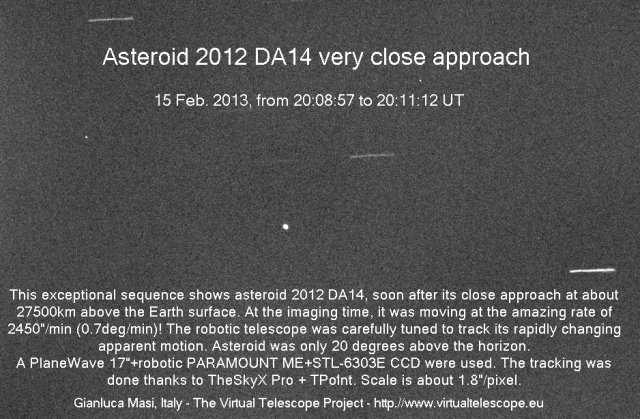 A full res (16Mbytes) version is available.
Questa carta mostra il percorso nel cielo dell'asteroide 2012 DA14 la sera del 15 Febbraio, così come visibile da Milano, Roma e Palermo. Le posizioni sono state accuratamente calcolate tenendo conto degli effetti dell'attrazione terrestre sull'orbita originaria del corpo.
NB: gli orari sono in tempo universale, bisogna aggiungere un'ora per riportarli alla consueta ora solare italiana!
Ulteriori dettagli sull'immagine.
Nel video sottostante, invece, viene simulato il moto dell'asteroide tra le stelle, calcolato per il sito del Virtual Telescope, nell'Italia Centrale. Esso è visualizzato tra le 19.30 e le 21.30 di ora italiana ed è accelerato di un fattore 50. Il campo coperto è di circa 13×10 gradi
Si ricorda che il 15 febbraio Virtual Telescope trasmetterà le immagini del passaggio in diretta, mediate la sua web tv!
The map above shows the path in the sky of asteroid 2012 DA14 around its very close approach, next 15 Feb. 2013. Positions are calculed for an ideal observer sitting at the center of our planet. Each point is calculated every 15 minutes.
The plot makes easy to see how fast will be the apparent motion of 2012 DA14, especially very close to its minimum distance from the Earth (19:25 UT).
This plot was made by Gianluca Masi using TheSkyX (Software Bisque) and geocentric ephemerids by the Minor Planet Center.
The near-Earth asterid 2012 DA14 is going to have a record close approach with our planet on Feb. 15, 2013. The video below shows the approach, keeping the asteroid in the center of the field of view, while it approaches planet Earth. See asteroid 2013 DA14 live, online with us!
The star chart was plotted using TheSkyX Professional, by Software Bisque.