The Sun in H-alpha
This video was done using a large number of single images grabbed during the 100 Hours of Remote Astronomy at The Virtual Telescope.
It is a amazing to see this prominence rapidly evolving (the movie covers 1.5 hours) , with the plasma raising and falling.
A Coronado SolarMax60 H-alpha telescope and a DBK 31AF03.AS CCD camera were used.
Support The Virtual Telescope Project!
If everyone reading this right now would donate something, our fundraiser would be done in a few days. Please, donate and receive stunning, LIMITED EDITION panel showing the evolution of comet 46P/Wirtanen over the last weeks and more amazing images, specifically made for supporters like you!
donate now (you can adjust the amount later)
You can also order our 2019 Calendar
, featuring our unique images of the stars above the legendary monuments of Rome!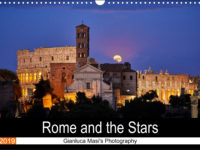 Comments
comments