Supernova SN 2013ab in NGC 5669: spectrum and image (3 Apr. 2013)
Supernova SN 2013ab exploded in NGC 5669 and peaked at about mag. 14.8. The Virtual Telescope system was used to take and image and a low res spectrum of the star, using both the robotic telescopes available.
The PlaneWave 17″ unit captured 7 images, each integrated for 300 seconds, later averaged to get the image above. All images were unfiltered and unguided, with a resulting original scale of 1.2″/pixel (binning 2×2). The supernova magnitude was estimated around mag. 15.2.
On the same night, the Celestron C14 unit, equipped with a 100 lines/mm grating, obtained 9 spectra, each integrated for 300 seconds, later averaged to get the plot below (with the slice showing the supernova and its spectrum also shown). There was some interference from the galaxy itself, some hot-pixels and a star in the filed (blue part of the plot). Spectrum was processed with RSpec:
The H-alpha emission is strong, showing how this is a type II (in particular IIP) supernova.
Support The Virtual Telescope Project!
If everyone reading this right now would donate something, our fundraiser would be done in a few days. Please, donate and receive stunning, LIMITED EDITION panel showing the evolution of comet 46P/Wirtanen over the last weeks and more amazing images, specifically made for supporters like you!
donate now (you can adjust the amount later)
You can also order our 2019 Calendar
, featuring our unique images of the stars above the legendary monuments of Rome!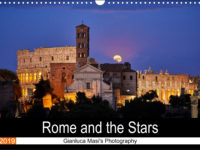 Comments
comments