Comet C/2014 Q2 Lovejoy: live observing session – 6 & 12 Jan. 2015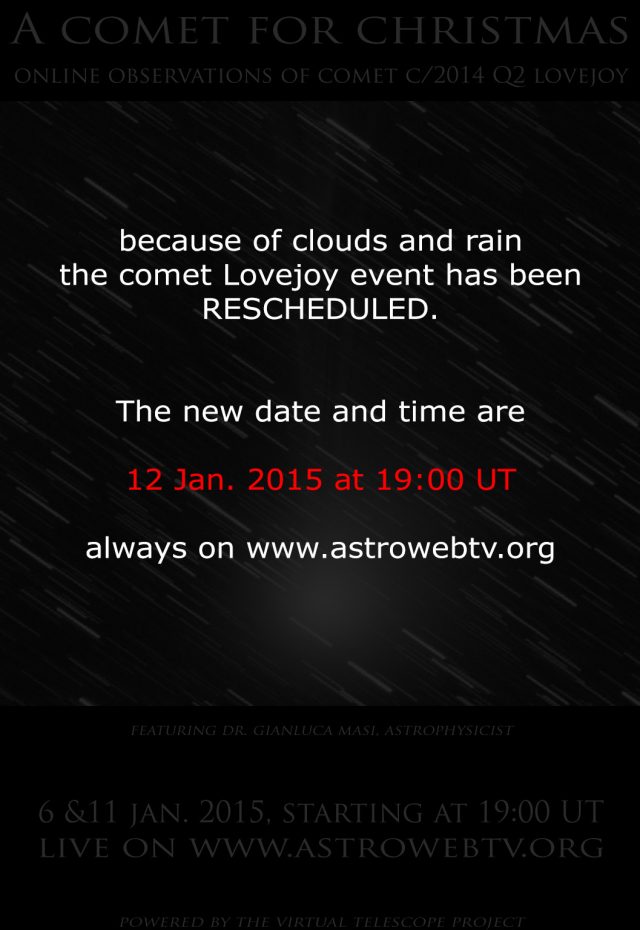 A nice comet is coming for this Christmas: it is comet C/2014 Q2 Lovejoy. Hopefully, it will be bright enough to be seen with small telescopes and binoculars. A nice present from the sky.
At Virtual Telescope we want to celebrate this holiday season with you and what is better than sharing a comet at Christmas? We will show it live, online, so that you can see it via the web, from the comfort of your home. All this for free.
We will leave for this journey and observe comet C/2014 Q2 Lovejoy on two nights: 6 Jan. and 12 Jan. 2015. On both nights, the event will start at 19:00 UT.
To join, you just need to enter, at the date and time above, our webTV page here!
  Please wait while you are redirected...or Click Here if you do not want to wait.
Support The Virtual Telescope Project!
Support us! Please, donate and receive unique, LIMITED EDITION set of images of the stunning comet C/2020 F3 Neowise above Rome, of potentially hazardous asteroids, space stations and much more, specifically made for supporters like you!
(you can adjust the amount later)