V2949 OPHIUCHI = NOVA OPH 2015 No. 2 = TCP J17344775-2409042: an image ( 11 Oct. 2015 )
On 11.4 Oct. 2015, K. Nishiyama (Kurume, Japan) and Fujio Kabashima (Miyaki, Japan) discovered a possible galactic nova in Ophiucus, temporarily named TCP J17344775-2409042. The nova nature was spectroscopically confirmed and the source was officially announced as V2949 OPHIUCHI = NOVA OPH 2015 No. 2 = TCP J17344775-2409042.
On Oct. 11.72 Oct., we remotely used the Virtual Telescope to confirm this object. The image above comes from the average of six, 30-seconds exposures, unfiltered, remotely collected with the  PlaneWave 17″+Paramount ME+SBIG STL-6303E robotic unit part of the Virtual Telescope Project. Using shorter exposures, the nova was estimated at mag. 11.2 (R mags for the reference stars from UCAC-4). The source was only 18 deg above the south-western horizon, at sunset twilight.
It is interesting to see how star density varies across the field of view in the image, revealing the existence of dust clouds heavily obscuring that region; observations revealed a highly reddened nova.
Support The Virtual Telescope Project!
If everyone reading this right now would donate something, our fundraiser would be done in a few days. Please, donate and receive stunning, LIMITED EDITION panel showing the evolution of comet 46P/Wirtanen over the last weeks and more amazing images, specifically made for supporters like you!
donate now (you can adjust the amount later)
You can also order our 2019 Calendar
, featuring our unique images of the stars above the legendary monuments of Rome!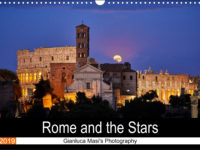 Comments
comments