Supernova SN 2016gfy in NGC 2276: an image – 07 Oct. 2016
Supernova SN 2016gfy in NGC 2276 was discovered on 13 Sept. 2016 and was observed via the Virtual Telescope as part of the follow-up programs involving optical, astrophysical transients.
On 7 October 2016, under a quite good sky,  we observed SN 2016gfy, a type II supernova in NGC 2276, a nice spiral galaxy in Cepheus, at about 100 millions of light years from us. It is a nice host galaxy, surrounded by many different, distant "island-universes", to use Immanuel Kant's words.
The image above comes from the average of three, 120-seconds exposures, remotely taken with the "Elena" (PlaneWave 17″+Paramount ME+SBIG STL-6303E) robotic unit part of the Virtual Telescope Project. The transient is marked with two white lines.
Supernova SN 2016gfy was estimated to be at mag. 15.8 (R mags for the reference stars from UCAC-4).
We plan to observe this supernova again in the future.
Support The Virtual Telescope Project!
If everyone reading this right now would donate something, our fundraiser would be done in a few days. Please, donate and receive unique, LIMITED EDITION set of images showing the stunning 19 Feb. 2019 Supermoon above Rome, images of the Tiangong 1 and International Space Station above Rome and more, specifically made for supporters like you!
donate now (you can adjust the amount later)
You can also order our 2019 Calendar
, featuring our unique images of the stars above the legendary monuments of Rome!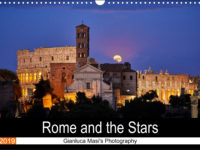 Comments
comments