Comet 38P/Stephan-Oterma: an image (1 Jan. 2019)
We managed to see comet 38P/Stephan-Oterma again, on its way back to the outer Solar System. It was a rewarding sight, as you can see from this image.
The image above comes from the sigma clipping combination of eleven, 300-seconds exposures, unfiltered, remotely collected with the "Elena" (PlaneWave 17″+Paramount ME+SBIG STL-6303E) robotic unit available at the Virtual Telescope Project in Italy. The robotic telescope tracked the apparent motion of Comet 38P/Stephan-Oterma, so stars left trails on the background. The image scale is 1.2″/pixel.
The sigma clipping technique limits the impact of the star trails on the image, making the comet visible much better.
The object shows a nice tail, pointing West: how beautiful it is!
We plan to keep an eye on this comet, so stay tuned.
Support The Virtual Telescope Project!
If everyone reading this right now would donate something, our fundraiser would be done in a few days. Please, donate and receive unique, LIMITED EDITION set of images showing the stunning 19 Feb. 2019 Supermoon above Rome, images of the Tiangong 1 and International Space Station above Rome and more, specifically made for supporters like you!
donate now (you can adjust the amount later)
You can also order our 2019 Calendar
, featuring our unique images of the stars above the legendary monuments of Rome!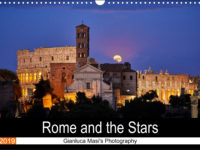 Comments
comments