Comet C/2011 L4 Pan-STARRS: a mosaic (19 May 2013)
Comet C/2011 L4 Pan-STARRS is still giving a great show in the northern skies. After it was visible at sunset by naked eye, it is now visible all night with a telescope, if you are enough north on the Earth.
While it moves far from the Sun, along its orbit, the comet developed an amazing dusty anti-tail, because of the geometry involving the observer. Day after day, it looks sharper and sharper, as long as the geometry will help showing this feature.
The Virtual Telescope Project used its 17″ robotic unit to make the mosaic above, where the anti-tail is very well visible. The mosaic was done assembling three adjacent fields, each coming from ten, 120-seconds exposures. It covers about one degree along the anti-tail.
Support The Virtual Telescope Project!
If everyone reading this right now would donate something, our fundraiser would be done in a few days. Please, donate and receive stunning, LIMITED EDITION panel showing the evolution of comet 46P/Wirtanen over the last weeks and more amazing images, specifically made for supporters like you!
donate now (you can adjust the amount later)
You can also order our 2019 Calendar
, featuring our unique images of the stars above the legendary monuments of Rome!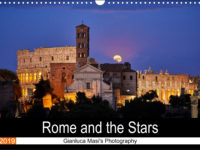 Comments
comments