Venus and Jupiter from EUR, Rome
During its last month of spring, 2012 saw a wonderful meeting in the sky, between Jupter and Venus, the brigthest and easiest to see planets of our Solar System.
The picture above was obtained by Gianluca Masi on March 13, 2012. At that moment, the two planets were approacing their minimum angular distance, while shining over the Saints Peter and Paul Basilica in the Eur area of Rome, Italy.
Support The Virtual Telescope Project!
If everyone reading this right now would donate something, our fundraiser would be done in a few days. Please, donate and receive unique, LIMITED EDITION set of images showing the stunning 19 Feb. 2019 Supermoon above Rome, images of the Tiangong 1 and International Space Station above Rome and more, specifically made for supporters like you!
donate now (you can adjust the amount later)
You can also order our 2019 Calendar
, featuring our unique images of the stars above the legendary monuments of Rome!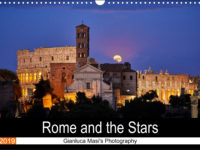 Comments
comments