The Virtual Telescope Project introduces spectroscopy on its C14 unit
The Virtual Telescope is very proud to announce that a new option will be available soon for our online users: stellar spectroscopy!
We have just installed a special grating to our C14 unit, making possible very interesting experiences of low-res spectroscopy in real time, with our robotic system. Users can now see how different stars show different spectra and even recognize novae at their discovery time!
This option is also of great educational value.
The first tests were very promising. Above is a spectrum of the star Mu Cephei, a well-known M2-type star, noted by W. Herschel for its garnet color.
Once the tests will be finished, we will introduce the new option to the public with an online, live event!
Stay tuned!
Support The Virtual Telescope Project!
If everyone reading this right now would donate something, our fundraiser would be done in a few days. Please, donate and receive stunning, LIMITED EDITION panel showing the evolution of comet 46P/Wirtanen over the last weeks and more amazing images, specifically made for supporters like you!
donate now (you can adjust the amount later)
You can also order our 2019 Calendar
, featuring our unique images of the stars above the legendary monuments of Rome!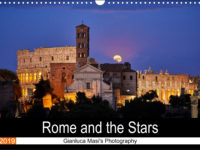 Comments
comments