Near-Earth asteroid 2013 PS13: very close encounter
On 8 Aug. 2013, the Minor Planet Center reported the discovery of an asteroid, going to have a very close encounter with the Earth in the very next hours. It received the provisional designation 2013 PS13.
As soon as the night arrived in Italy, the the PlaneWave 17″ robotic unit was slewed to this rapidly approaching rock, with the Paramount ME robotic mount tracking it at the amazing rate of 200″/minute!
Above is an image coming from the average of 12, 15-seconds exposures, with 2013 PS13 sitting in the center and showing as a pinpoint light source. As an effect of the mount tracking the specific motion of the object, stars are apparently sliding on the background. At the imaging time, the asteroid was at about 450.000 km, a bit more distant than the Moon.
Astrometric measures were also performed to help refining its orbit.
Below is a video coming from the same set of images: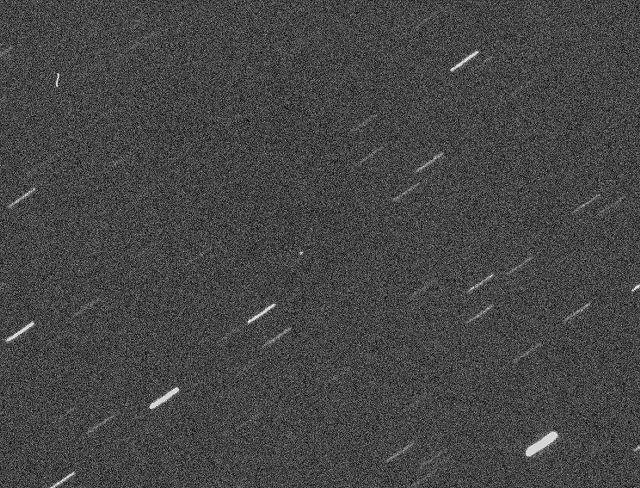 Support The Virtual Telescope Project!
Support us! Please, donate and receive unique, LIMITED EDITION set of images of the stunning comet C/2020 F3 Neowise above Rome, of potentially hazardous asteroids, space stations and much more, specifically made for supporters like you!
(you can adjust the amount later)