Comet C/2013 R1 Lovejoy: nucleus and tail (05 Dec. 2013)
Comet C/2013 R1 Lovejoy is putting an amazing show out there. It is enchanting us with a long tail, but it is amazingly interesting even at high resolution.
Above in an image remotely taken with the PlaneWave 17″ robotic unit part of the Virtual Telescope, showing a spike-like tail and some very interesting structures close to the false nuclues. It is the average of 8, 120-seconds exposures, with the mount tracking the apparent motion of the comet.  Of course, the tail is much longer than the fraction captured here (this image covers about 20×30 arcmins, with North on the left, East on the bottom).  Processing was gentle, to preserve a natural sight of the comet. below is a bit more contrasted image:
Hi-res images (0.62″/pixel) were obtained with the Celestron C14 robotic unit, with its mount tracking the comet. Averaging five, 180-seconds exposures and using a gentle unsharp masking filter, the false nucleus shows interesting structures, as below:
Support The Virtual Telescope Project!
If everyone reading this right now would donate something, our fundraiser would be done in a few days. Please, donate and receive stunning, LIMITED EDITION panel showing the evolution of comet 46P/Wirtanen over the last weeks and more amazing images, specifically made for supporters like you!
donate now (you can adjust the amount later)
You can also order our 2019 Calendar
, featuring our unique images of the stars above the legendary monuments of Rome!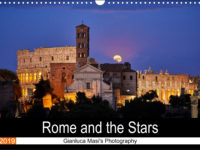 Comments
comments