La Notte della Luna Rossa e del Pianeta Rosso – 27 luglio 2018
Il Ministero per i Beni e le Attività Culturali
Il Parco archeologico del Colosseo e Il Virtual Telescope Project
PRESENTANO
LA NOTTE DELLA LUNA ROSSA E DEL PIANETA ROSSO
L'eclissi totale di Luna del secolo e la grande opposizione di Marte
Roma, 27 Luglio, ore 21.00 – 24.00
 Piazza del Colosseo, angolo Via Sacra
Comunicato Stampa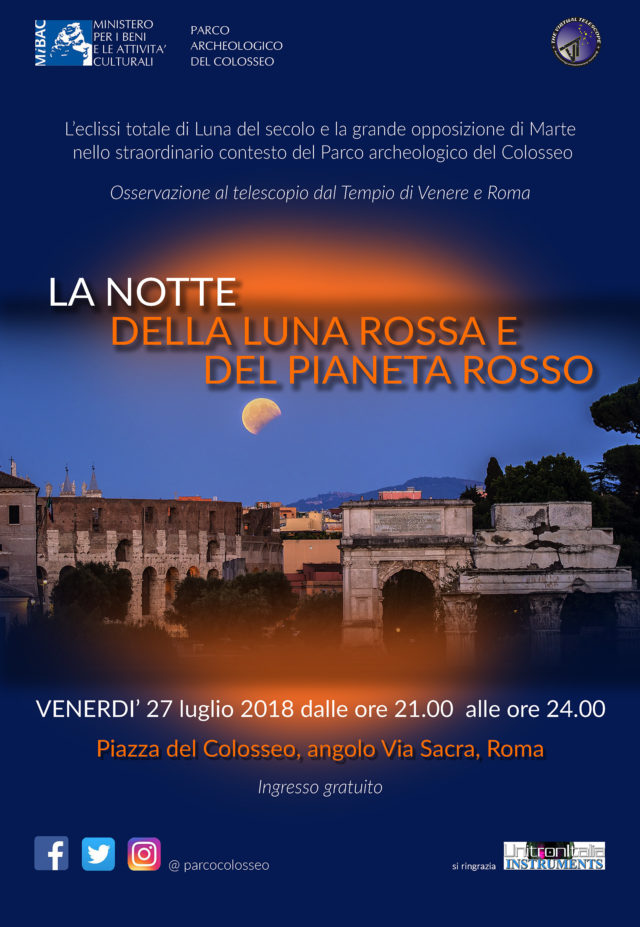 Lo spettacolo raro e magnifico dell'eclissi totale di Luna più lunga del secolo e della contemporanea grande e luminosa opposizione di Marte, nello straordinario contesto del Parco archeologico del Colosseo: un evento di eccezionale bellezza, unico al mondo.
Il prossimo 27 luglio, dopo quasi tre anni di assenza, torna nei cieli italiani lo spettacolo magnifico dell'eclissi totale di Luna. E lo farà in grande stile: in questa occasione, infatti, la Luna sarà alla massima distanza dalla Terra e raggiungerà il centro dell'ombra terrestre, generando un'eclissi con una fase totale di circa 103 minuti, la più lunga del XXI Secolo.
Inoltre, proprio la notte dell'eclissi, il pianeta Marte raggiungerà l'opposizione al Sole mentre sarà prossimo alla sua minima distanza dalla nostra stella, condizione ideale di visibilità per il Pianeta Rosso, la migliore dopo quella dell'agosto 2003: sarà una cosiddetta "grande opposizione", con Marte che brillerà luminosissimo nel cielo.
"Poiché la Luna piena, condizione indispensabile per la sua eclissi, corrisponde alla fase in cui il nostro satellite si trova in opposizione al Sole, ne consegue che sia Marte che la Luna in eclissi saranno nella stessa regione di cielo, opposta al Sole, a soli sei gradi di distanza l'uno dall'altro: un raro e spettacolare abbraccio tra la Luna Rossa e il Pianeta Rosso – spiega Gianluca Masi, astrofisico, fondatore e Responsabile Scientifico del Virtual Telescope Project.
"Un fenomeno astronomico così unico ed irripetibile merita un evento culturale eccezionale, per condividere con il pubblico il valore e il significato della Bellezza, legame tra le meraviglie del cielo e della terra" – afferma Alfonsina Russo, Direttore del Parco archeologico del Colosseo.
Per questo, il Ministero per i Beni e le Attività Culturali, il Parco archeologico del Colosseo e il Virtual Telescope Project hanno predisposto per il 27 luglio, dalle ore 21.00 alle ore 24.00 una straordinaria serata di osservazione pubblica da un luogo di incommensurabile valore archeologico, culturale e storico: il Tempio di Venere e Roma, a pochi metri dall'Anfiteatro Flavio e dall'Arco di Costantino.
Ed è proprio da questa suggestiva postazione che, al culmine dell'eclissi, sarà possibile ammirare la Luna e Marte vestiti di eleganti sfumature rosse, uno spettacolo senza eguali al mondo. I visitatori, guidati nella scoperta del fenomeno astronomico e in quella dei monumenti antichi da personale specializzato, potranno osservare i due astri sia ad occhio nudo che al telescopio.
L'evento, aperto gratuitamente, avrà inizio alle ore 21.00 e si concluderà alle ore 24.00. La fase totale dell'eclissi è prevista tra le ore 21.30 e le ore 23.13. I turni di visita di 15 minuti ciascuno prevedranno la presenza contemporanea di 40 persone alla volta, che potranno assistere da 6 postazioni al fenomeno astronomico.
L'ingresso avverrà da piazza del Colosseo, angolo Via Sacra.
L'eclissi verrà trasmessa in diretta streaming attraverso le tecnologie del Virtual Telescope, al fine di condividere con il pubblico di tutto il mondo un evento prezioso e irripetibile.
Si ringrazia UnitronItalia Instruments per l'allestimento dei telescopi.
Support The Virtual Telescope Project!
Support us! Please, donate and receive unique, LIMITED EDITION set of images of the stunning comet C/2020 F3 Neowise above Rome, of potentially hazardous asteroids, space stations and much more, specifically made for supporters like you!
(you can adjust the amount later)