Asteroid 2012 RK15 close encounter (24 Sept. 2012)
On 24 Sept. 2012 at 16:55 Universal Time, the near-Earth Asteroid 2012 RK15 will approach our planet, reaching a minimum distance of 8.2 lunar distances, that is 3.1 millions of km. It is definitely a safe distane, so no risks for our planet.
2012 RK15 was discovered on 14 Sept. 2012 from the Catalina Sky Survey and the Virtual Telescope provided at that time some precious follow-up, to help calculating its orbit. Its diameter is estimate to be around 90 meters.
Around the time of the close approach, the asteorid will be traveling across the stars of Scorpis, so it will visible mainly for the southern hemisphere. But it will be faint, around mag 18, and moving fast, so an "hard" target.
Support The Virtual Telescope Project!
If everyone reading this right now would donate something, our fundraiser would be done in a few days. Please, donate and receive stunning, LIMITED EDITION panel showing the evolution of comet 46P/Wirtanen over the last weeks and more amazing images, specifically made for supporters like you!
donate now (you can adjust the amount later)
You can also order our 2019 Calendar
, featuring our unique images of the stars above the legendary monuments of Rome!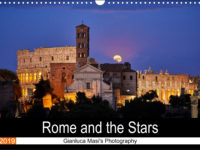 Comments
comments