Supernova SN 2017dfc and Messier 63: a new image (28 May 2017)
Do you remember Messier 63 and the SN 2017dfc supernova behind it? At Virtual Telescope we do and are pleased to show this new image, with the transient barely visible, on its way to fade.
The image above comes from the average of five, 300-seconds exposures, remotely taken with "Elena" (PlaneWave 17″+Paramount ME+SBIG STL-6303E) robotic unit available at Virtual Telescope.
Supernova SN 2017dfc is actually located almost 30 times farther than Messier 63, so seeing this transient there is a mere question of (fascinating) perspective. For sure, it is a very intriguing coincidence. The supernova faded significantly in almost 40 days, more or less now being at mag. 19.5 or so.
Support The Virtual Telescope Project!
If everyone reading this right now would donate something, our fundraiser would be done in a few days. Please, donate and receive stunning, LIMITED EDITION panel showing the evolution of comet 46P/Wirtanen over the last weeks and more amazing images, specifically made for supporters like you!
donate now (you can adjust the amount later)
You can also order our 2019 Calendar
, featuring our unique images of the stars above the legendary monuments of Rome!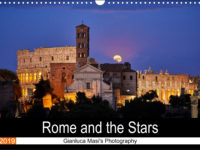 Comments
comments