"Walking on the Moon": online observing session – 23 April 2018
The moon will seem close enough to touch during The Virtual Telescope Project's remote, online lunar observing session. Have fun with plenty of friends from all around the planet!
This year Virtual Telescope's host Dr. Gianluca Masi will be joined by artist and one of AWB's astroartist Bettina Forget as they show you various craters on our closest neighbor. Bettina will be conducting a Sketching the Moon workshop on 29 April, 2018 as a follow-up to this very special program.
Join in to find your own crater, mount or sea while flying over our ancient satellite, with our live narration. We promise you an unforgettable event.
Don't miss Global Astronomy Month, and be ready to celebrate the Universe with us!
Support The Virtual Telescope Project!
If everyone reading this right now would donate something, our fundraiser would be done in a few days. Please, donate and receive stunning, LIMITED EDITION panel showing the evolution of comet 46P/Wirtanen over the last weeks and more amazing images, specifically made for supporters like you!
donate now (you can adjust the amount later)
You can also order our 2019 Calendar
, featuring our unique images of the stars above the legendary monuments of Rome!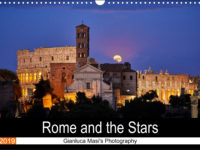 Comments
comments