M 12 – Oph
At Virtual Telescope, we always have great consideration for globular clusters. This time, we visited the Ophiucus constellation, hosting several great and spectacular objects of this kind.
Here we present Messier 12 (more data), discovered by Charles Messier in 1764. It is located at about 16.000 light years and shows a concentration which is not as strong as other similar clusters. For this it was sometimes considered a concentrate open cluster, but we know it is definitely a globular one. Plenty of faint galaxies are visible all around.
The image above is the average of 15, 120-seconds exposures, remotely taken with the PlaneWave 17 robotic unit part of the Virtual Telescope Project. All images were unguided. Image scale is about 0.7″/pixel.
Support The Virtual Telescope Project!
If everyone reading this right now would donate something, our fundraiser would be done in a few days. Please, donate and receive stunning, LIMITED EDITION panel showing the evolution of comet 46P/Wirtanen over the last weeks and more amazing images, specifically made for supporters like you!
donate now (you can adjust the amount later)
You can also order our 2019 Calendar
, featuring our unique images of the stars above the legendary monuments of Rome!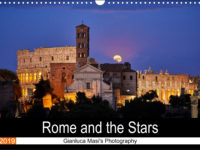 Comments
comments