Potentially Hazardous Asteroid 2015 TB145 very close encounter: live event (31 Oct. 2015)
Next 31 Oct. 2015, at 17:18 UT, the 500-meters large asteroid 2015 TB145 will made a very close, but safe approach with the Earth, reaching a minimum distance of less than 500.000 km, that is 1.3 lunar distances.
We wish to underline this is a safe distance, but still a very spectacular event, so  the Virtual Telescope Project will offer a live, online event sharing real-time images of 2015 TB145 with live commentary by our scientific staff.
The online, free session is scheduled for 31 Oct. 2015, starting at 00:00 UT.
Please wait while you are redirected...or Click Here if you do not want to wait.
Support The Virtual Telescope Project!
If everyone reading this right now would donate something, our fundraiser would be done in a few days. Please, donate and receive stunning, LIMITED EDITION panel showing the evolution of comet 46P/Wirtanen over the last weeks and more amazing images, specifically made for supporters like you!
donate now (you can adjust the amount later)
You can also order our 2019 Calendar
, featuring our unique images of the stars above the legendary monuments of Rome!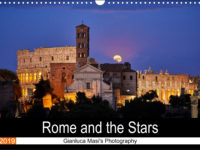 Comments
comments