Near-Earth asteroid 2003 DZ15 close encounter: an image and a video for a great event!
The event scheduled to cover the near-Earth asteroid 2003 DZ15 close encounter was a huge success: more than 70.000 viewers from 168 Countries joined it and it was truly a magic moment. The sky was amazingly clear and the PlaneWave 17″ robotic unit performed exceptionally well, thanks to its Paramount ME mount and its TheSkyX controlling software, by Software Bisque.
Despite the fast apparent motion of the target (almost 60″/minute), the system showed its legendary capability to handle these extreme fast movers. The image above is the average of 5, 180-seconds exposures, with the mount tracking the apparent motion of 2003 DZ15, leaving the stars trailing in the background. Below is a video coming from images captured during the live event. The live coverage was also shared in Italy in cooperation with "Ansa Scienza&Tecnica".
We wish to thank our technological partners: UnitronItalia Instruments, Software Bisque, Baader Planetarium, Santa Barbara Instrument Group and PlaneWave Instruments. Also, we wish to thank space.com for their cooperation.
Support The Virtual Telescope Project!
If everyone reading this right now would donate something, our fundraiser would be done in a few days. Please, donate and receive stunning, LIMITED EDITION images with the Tiangong 1 and International Space Station above Rome and one of a potentially hazardous asteroid taken by the Virtual Telescope, specifically made for supporters like you!
donate now (you can adjust the amount later)
You can also order our 2019 Calendar
, featuring our unique images of the stars above the legendary monuments of Rome!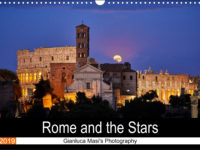 Comments
comments