Potentially Hazardous Asteroid 1995 CR: an amazing image (21 Feb. 2014)
The image above shows the potentially hazardous asteroid (PHA) 1995 CR,  a few hours its close approach with the Earth. On 21 Feb. 2014, at 11:08 UT, this about 210 meters large body was at 7.6 lunar distances from us and soon after the Virtual Telescope Project shared it live, on the web, with people worldwide.
The image is the average of five, 120 seconds exposures, with the Planewave 17 robotic unit tracking its fast apparent motion. This is why the object looks like a point of light, perfectly tracked, and stars leave their trails on the background.
Images used for this picture were taken during the live, online event hosting thousands of people from all around the globe.
Support The Virtual Telescope Project!
If everyone reading this right now would donate something, our fundraiser would be done in a few days. Please, donate and receive unique, LIMITED EDITION set of images showing the stunning 19 Feb. 2019 Supermoon above Rome, images of the Tiangong 1 and International Space Station above Rome and more, specifically made for supporters like you!
donate now (you can adjust the amount later)
You can also order our 2019 Calendar
, featuring our unique images of the stars above the legendary monuments of Rome!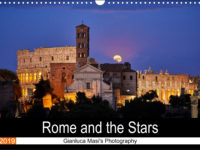 Comments
comments