The Moon, Venus and Mercury bring Spring to the northern hemisphere (19 March 2018)
Last March, Venus and Mercury were both visible at sunset; the Moon joined the couple with its sharp crescent, offering a stunning view at twilight. Here they are a couple of images.
The image above was captured with a Canon 5D mIV, equipped with a Canon EF 70-200mm f/2.8L IS II USM. The Moon is of course obvious, with its always elegant Earthshine; planet Venus is the bright dot on the bottom center, while Mercury is on the right, below the clouds there.
While it darkened, the Moon was honestly stunning. The very clear sky made its Earthshine quite a sight and some small clouds, moving all around, added something special to the view. I must admit it was one of the best, young Moon crescent I saw in recent years.
Support The Virtual Telescope Project!
If everyone reading this right now would donate something, our fundraiser would be done in a few days. Please, donate and receive stunning, LIMITED EDITION panel showing the evolution of comet 46P/Wirtanen over the last weeks and more amazing images, specifically made for supporters like you!
donate now (you can adjust the amount later)
You can also order our 2019 Calendar
, featuring our unique images of the stars above the legendary monuments of Rome!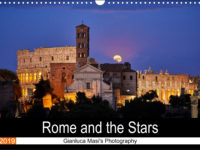 Comments
comments