Comet 46P/Wirtanen: an image (7 Nov. 2018)
We imaged comet 46P/Wirtanen again, after almost one month of cloudy weather. It is now much brighter, on its way to become our Christmas 2018 comet!
The image above comes from the average of 13, 120-seconds exposures, unfiltered, remotely collected with the "Elena" (PlaneWave 17″+Paramount ME+SBIG STL-6303E) robotic unit available at the Virtual Telescope Project. The robotic telescope tracked the apparent motion comet Wirtanen, so stars left trails on the background. The image scale is 1.2″/pixel.
At the imaging time, the comet was very low, about 15 deg. above the Southern horizon.
We scheduled a double live, online event to share this comet with the community.
Support The Virtual Telescope Project!
If everyone reading this right now would donate something, our fundraiser would be done in a few days. Please, donate and receive unique, LIMITED EDITION set of images showing the stunning 19 Feb. 2019 Supermoon above Rome, images of the Tiangong 1 and International Space Station above Rome and more, specifically made for supporters like you!
donate now (you can adjust the amount later)
You can also order our 2019 Calendar
, featuring our unique images of the stars above the legendary monuments of Rome!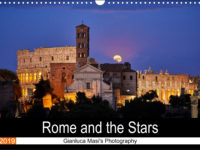 Comments
comments