Near-Earth asteroid 2014 BR57: an image (16 Feb. 2014)
While waiting for the live, online event scheduled for this Earth approacher, the Virtual Telescope had a preview of 2014 BR57.
The Planewave 17 robotic unit managed to capture that difficult light, while the Full Moon was high in the sky. The telescope tracked the asteroid, so it looks like a small dot of light, while stars shifted on the background.
Above is the average of three images, with 2014 BR57 marked by two white lines.
Support The Virtual Telescope Project!
If everyone reading this right now would donate something, our fundraiser would be done in a few days. Please, donate and receive unique, LIMITED EDITION set of images showing the stunning 19 Feb. 2019 Supermoon above Rome, images of the Tiangong 1 and International Space Station above Rome and more, specifically made for supporters like you!
donate now (you can adjust the amount later)
You can also order our 2019 Calendar
, featuring our unique images of the stars above the legendary monuments of Rome!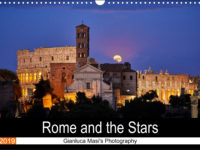 Comments
comments