Messier 82 and Supernova SN 2014J: a new image and animation (24 Aug. 2014)
For sure, supernova SN 2014J in M82 has been one of the most important seen in recent years. At Virtual Telescope we tracked it since its discovery and wanted to see how bright it was almost seven months after its finding.
Above is the average of three, 180-seconds exposures, remotely taken with the  17″ robotic telescope unit and the supernova is indicated with a white arrow. The star was measured to be at mag. 15.8 R, almost 5.5 magnitudes fainter than early Feb. 2014.
 Below is an animation showing how the star changed in brightness between 28 Mar. and 24 Aug. 2014 (click on the animation to see the full version):
Support The Virtual Telescope Project!
If everyone reading this right now would donate something, our fundraiser would be done in a few days. Please, donate and receive stunning, LIMITED EDITION panel showing the evolution of comet 46P/Wirtanen over the last weeks and more amazing images, specifically made for supporters like you!
donate now (you can adjust the amount later)
You can also order our 2019 Calendar
, featuring our unique images of the stars above the legendary monuments of Rome!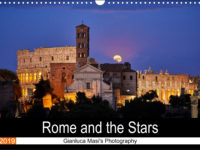 Comments
comments