Asteroid 2012 QG42 update: 6 Sept. 2012
While waiting for the live, online  event on this asteroid, at Virtual Telescope we are tracking 2012 QG42 while approaching our planet.
We grabbed a few images on Sept.6 around 23:35 UT, while it was already moving significantly fast (about 7.5″/min). Our robotic telescope was asked to follow the apparent motion of the object, so stars appear trailed, with the asteroid looking as a point of light.
Putting together all the 17 images we obtained a movie showing the asteroid moving among the stars: its apparent motion is going to be faster and faster while it will come closer to the Earth. At the time of the images, the asteroid was at about 7 millions of km from our planet.
Stay tuned!
Support The Virtual Telescope Project!
If everyone reading this right now would donate something, our fundraiser would be done in a few days. Please, donate and receive stunning, LIMITED EDITION panel showing the evolution of comet 46P/Wirtanen over the last weeks and more amazing images, specifically made for supporters like you!
donate now (you can adjust the amount later)
You can also order our 2019 Calendar
, featuring our unique images of the stars above the legendary monuments of Rome!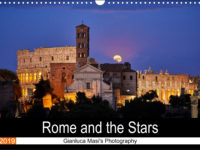 Comments
comments