Supernova SN 2013am in Messier 65
On 21.637 Mar. 2013, M. Sugano, Kakogawa, Hyogo-ken, Japan reported the discovery of an apparent supernova in Messier M65. The candidate was published on the Transient Object Confirmation Page of the Central Bureau for Astronomical Telegrams.
The Virtual Telescope Project contributed to its confirmation, providing photometry and astrometry for the SN suspect. Later, the object received its official designation, SN 2013am (CBET 3440). The Moon was bright and close at the imaging time. Here it is another image of Messier 65, without the supernova.
Below is the supernova in real timer, while it was observed for confirmation.
Support The Virtual Telescope Project!
If everyone reading this right now would donate something, our fundraiser would be done in a few days. Please, donate and receive unique, LIMITED EDITION set of images showing the stunning 19 Feb. 2019 Supermoon above Rome, images of the Tiangong 1 and International Space Station above Rome and more, specifically made for supporters like you!
donate now (you can adjust the amount later)
You can also order our 2019 Calendar
, featuring our unique images of the stars above the legendary monuments of Rome!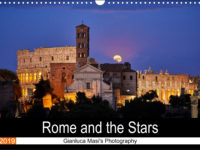 Comments
comments